A lot of tax and customs procedures will be reduced from now until September, said Minister of Finance Dinh Tien Dung at the weekly VTV program 'Citizens ask, Minister answers' on August 10.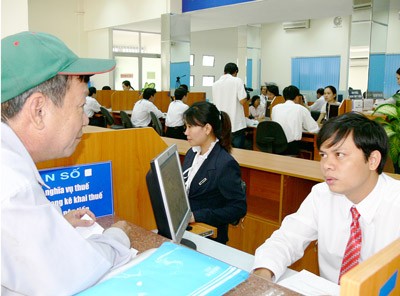 A man  asks about tax procedures at the HCMC Taxation Department (Photo: SGGP)
The ministry will examine and abolish unnecessary procedures that have been inconvenient and taken time to tax payers.
They will change norms to declare value added tax, striving to cut 156 hours spending on this.
Businesses will declare the value added tax and business income tax five times per year instead of 17 times as present. This will help businesses save 88 hours.
Related documents will take effect on August 15 at the latest to cut time spending on customs procedures by 201 hours.
At the July cabinet meeting, the ministry submitted the Government a resolution to reduce time on tax declaration and submission by 290 hours out of the total 537 hours as per calculations by the World Bank.