Tax on petrol imports will be decreased from six percent to zero percent, according to a Ministry of Finance's circular. The Ministry issued this decision on January 14.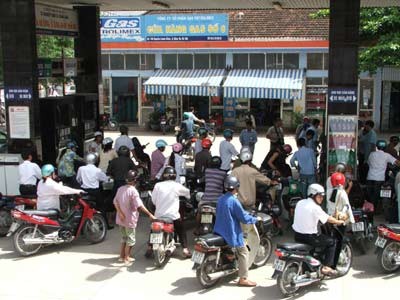 Motorcyclists are waiting for their turn to fuel for their vehicles at a petrol station. The Ministry of Finance decides to reduce tax on petrol imports to zero percent
The Ministry have also decided to cut tax duties on kerosene from 6 percent to only 2 percent, diesel tax from 2 percent to 0 percent and tariffs on fuel oil from 5 percent to 2 percent.
Due to subsidies and certain tax policies, domestic petrol prices have moved up by only 2.8 percent since last year, as compared with a 30 percent rise on global markets.
In addition, in an effort to stabilize domestic fuel prices, the Ministry will compensate petrol dealers for any losses incurred during the current fluctuation in world oil prices.
Accordingly, petrol distributors and dealers will receive an additional VND600 per liter subsidy, increasing the total subsidy they received to VND1,600 per liter.
Because of heavy subsidies and favorable tax policies, domestic petrol prices have increased only 2.8 percent since 2010, as compared with nearly 30 percent on world markets.