While employees at many businesses are happily enjoying their Tet bonuses, most teachers and civil servants in the education sector have been given a very modest amount for Tet. Worse, in many areas, salaries have also been delayed.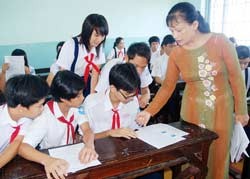 A teacher at a school in HCM City. Many teachers have suffered from delays in pay and meager Tet bonuses. (Photo: SGGP)
This was claimed by Mr. Trinh Thang Manh, head of the Social Policy Division under the Vietnam Education Trade Union, in an interview with Sai Gon Giai Phong.
SGGP: What do you think about the small Tet bonus that teachers have received this year, which is as little as VND30,000 ($1.7) for pre-school teachers, while civil servants in other sectors receive much higher bonuses?
Mr. Manh: The payment of bonus to teachers depends on the financial ability of local authorities and schools, a Tet bonus is not an expense covered by the budget and is not compulsory. Therefore, in many areas, the rate of bonus is very low, particularly for pre-school and primary teachers.
In cities, a school can pay a VND300,000-500,000 ($17-29) bonus, but in rural and mountainous areas, the rate may be only VND50,000-100,000.
For vocational schools, colleges and universities, as they have a larger source of revenue, they can pay bonuses of VND2-8 million ($114-458) per teacher, even VND10 million, ten times as much than high schools, pre-schools and primary schools.
What has the Education Trade Union done to help ease difficulties suffered by teachers in their daily lives?
The Education Trade Union could not afford to give assistance to all teachers. Their income mainly depends on budgets from local authorities. Our duties are to protect legitimate rights and the interests of teachers. Now we give support to teachers at remote or island areas. Over the past 10 years, we have raised about VND130 billion ($7.4 million) to build houses for 33,000 poor teachers.
But the reality shows that prolonged delays in salary payment has caused a lot of difficulties. What is your view?
Actually, many policies on teachers have yet to be carried out sufficiently and punctually. Allowances are most often delayed. Currently, because of poor budgets, delays have been recorded in about two-third of schools across the country.
Particularly in some provinces like Quang Binh and Quang Tri, the total value of delayed salary amounts to hundreds of billions of dong.
So what is the solution? What has the Education Trade Union done to help?

We have made a proposal to the Vietnam General Confederation of Labor, asking them to give instructions for its local units to solve the problem. We have also asked local departments of education and training to refer the issue to the government and require local authorities to make it clear when teachers can receive their salary in full.
We have set up a charity fund to support the poorest teachers or those who are victims of natural disasters.
As you have said, pre-school teachers have the lowest salary. Is it an inequality while they are serving the sector's goal of universalizing pre-school education for under 5-year olds?
The country has 17,000 pre-school teachers, of which 55 percent are not regular teachers, who are not paid according to the salary frame stipulated by the government, but under their contracts signed with the schools, mainly from VND300,000-800,000 ($17-46) per month.
But in practice, due to an excess number of teachers and poor local budgets, a lot of pre-school teachers could not but accept work at a salary of VND300,000-400,000 per month, even VND100,000, far lower than the minimum rate.