Farmers in ten remote provinces will be provided instant access to pricing and market information thanks to a new telecenter initiative developed by Intel, the Ministry of Agriculture and Rural Development (MARD), and the UN Development Programme (UNDP).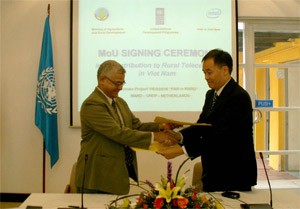 Mr. Subinay Nandy (1st, L) and Mr. Than Trong Phuc, Intel manager exhanges the Memorandum of Understanding(Photo:D.Quang)
Thanks to rural telecenters, farmers will be able to access the latest research and information on farming techniques as well as obtain the latest information on domestic and international markets.
Aside from having the most currently competitive prices, farmers can now use the telecenter to expedite their necessary paperwork online, saving them time and transportation costs.
As part of a UNDP-MARD program in public administration reform, Intel will provide 13 computer systems to the 13 provincial telecenters. Information will be disbursed using the community broadcast system.
The pilots hope to generate a more in-depth understanding of the impact ICT (Information and Communication Technology) will have on rural development in Viet Nam.
The goal is to improve agricultural output and enhance economic opportunities for the farmers by providing constant access to the latest developments and local market information.
The pilot will also test alternative models for funding financially sustainable rural ICT facilities by incorporating local participation and investment to ensure the community's continued benefit.
"Public administration reforms were green lighted to boost the socio-economic development of the nation in the government's Public Administration Reform Master Plan of 2001," noted Mr. Bach Quoc Khang, General Secretary of MARD.
"Accessing information technology can be a powerful force in improving the livelihood of farming communities. It saves them time, and in the long run, saves money," said UNDP Deputy Resident Representative, Subinay Nandy. "This rural telecenter pilot, once declared successful, will be replicated to benefit the greater agricultural sector and improve the efficiency and income of the farming population throughout country."
These provinces include Bac Ninh, Thai Nguyen, Thanh Hoa, Thai Binh, Binh Thuan, Lam Dong, Dak Lak, Binh Phuoc, Tien Giang, Vinh Long.