Teenage agent team named Iron Bowl that was famous in the resistant war against French colonialists on Monday was bestowed title Hero of Army Forces at a ceremony held in Hanoi Police Headquarters.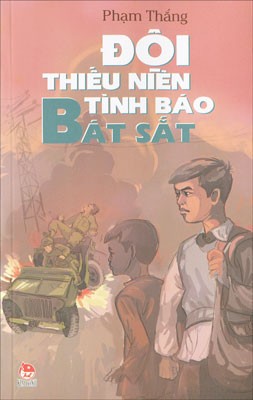 The cover of the book "Teenage Agent Team named Iron Bowl" written by Pham Thang.
The Iron Bowl team set up in 1947 grouped teenage boys and girls who secretly collected information from French military, guided revolutionaries to come in and out big cities where French troops controlled, built confidential basis and assassinated those who were killers- lackeys of French colonialists.
The team was named Iron Bowl because all its members used to bring an iron bowl with them.
During the time French colonialists conquered the country there were many teenage agent and fighting teams who remarkably contributed in the victory over the French.
On this occasion, Kim Dong Publishing House reprinted the book entitled "Teenage Agent Team named Iron Bowl" written by Pham Thang who was a member of the team and depicted as a character in the book. That is the reason why the book are rich of reality and fascinating.
Pham Thang is not a writer. He wrote the book after he was aware of children's passion to his stories about the legendary young agent team and his concern over that the glorious victory of the team may be forgotten in the future.
The book has been welcome by generations of readers and this is the seventh time the book was republished.
I am very happy to see that a book of education on patriotic traditions is still a top priority as entertainment comic books overwhelm the book market, said the author of the book.