A robot that picks up objects won the top prize for Phan Van Mam, a 17-year-old student from the northern province of Nam Dinh, at the fifth national creativeness competition for teenagers that wrapped up on September 23.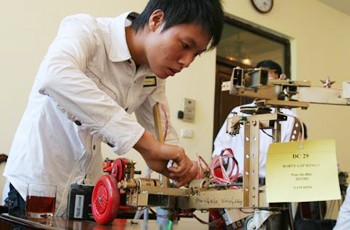 Phan Van Mam's robot which won the special prize at the fifth national creativity competition for teenagers on September 23 (Photo: VnExpress)
It also won the gold medal from the UN's World Intellectual Property Organization (WIPO) for young creativeness.
At a ceremony held in Hanoi, the organizers also gave away five first, 10 second, 20 third, and 40 consolation prizes in the categories of tools, software, toys and recreational aids, household appliances, and environmental protection and economic development.
Deputy Prime Minister Nguyen Thien Nhan congratulated the winners and hoped the competition would be even more successful next year.
The competition, launched in September 2008, attracted 286 projects, with HCMC leading the way with 51.
The organizers have chosen the 10 best entries to participate in an international exhibition for young creators in Nigeria in November.
They also launched the competition for next year on the same day.