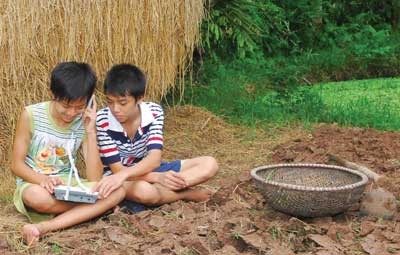 Children in the countryside use a telephone like a toy. With telecom operators cutting rates to grab a share of the rural landline market, more and more farming households are acquiring phones.
Major telecom operators, including state-owned giant Viet Nam Posts & Telecommunications Corporation, are engaged in a fierce battle for the rural telephone market and customers are not complaining.
The operators are providing free cordless telephones to farmers and call tariffs are very low.
It is becoming a normal sight to see farmers in places like suburban Ha Noi and the northern mountain, provinces of Dien Bien, Lai Chau, Yen Bai, Ha Giang and Lang Son carrying telephones to the field or placing them on the edge of paddy fields while they work.
The director of a telecom company in the northern province of Ha Nam, a branch of VNPT, Cao Duc Dong, said though the province is poor, out of its 850,000 population, over 100,000 have landlines.
Sixty-year-old farmer Le Van Te of the northern province of Ha Nam said: "[Calling from] cordless telephones is cheaper than from mobile phones and they have a stronger wave; hence I take the phone while working."
VNPT has supplied tens of thousands of free phones in disadvantaged communes in seven Hanoi districts.
EVN Telecom, which offers E-com service, has given free telephones and Viettel has launched attractive promotions for its HomPhone program.
When VNPT's GPhone debuted, people quickly signed up for it because of its lower tariffs.
As a result, it is normal to several phones in many rural households.
Viettel and VNPT have both announced they will review their services since many subscribers jump from one company to another as soon as a low-cost program or promotion is announced.
VNPT Ha Nam is monitoring use of its GPhone services and has said it will take back phones that are not used for amore than a few months.