The Central Committee of the Ho Chi Minh Communist Youth Union held a ceremony on March 25 at the Vietnam-Soviet Cultural Friendship Palace in Hanoi to honor 10 outstanding youth in the fields of culture, development and defence.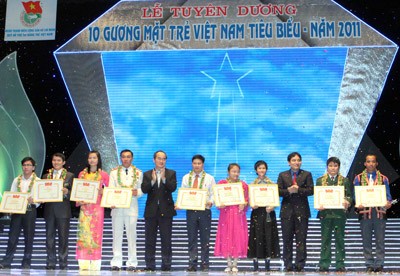 10 outstanding youths of Vietnam in ceremony (Photo: SGGP)
According to the organizers, 54 youth were nominated at the local level, from which 10 of the most outstanding candidates were selected to receive the award 'Excellent Youth of Vietnam 2011'.
Three of those selected this year were women, from the field of culture, sports, literature and arts. As happens every year, the final list of selected candidates is kept a secret until the last minute.
Speaking at the ceremony, Deputy Prime Minister Nguyen Thien Nhan said that there have been 150 outstanding youth in the past 15 years, and each year 10 of the most excellent candidates bring pride to their country, the Party, State and the people.
Mr. Nhan believed that this ceremony would be the basis for youth to contribute more towards their country and serve as example for future generations.
This year's list of 10 outstanding awardees include, Nguyen Huy Hoang, 20, who won the Gold Medal at the International Physics Olympiad 42th in Thailand; Pham Hoang Hiep, 31, who was honoured as the 'youngest associate professor of Vietnam' when he was 29-years-old; Vu Trong Thu, 31, manager of Department of Space Research for the F-1 CubeSat project.
Pham Duc Thach, 37, owner of cattle farm in Huong Khe District in Ha Tinh Province; Le Cat Trong Ly, a singer who has contributed to society through the arts; A Yung, Secretary of the Youth Union; Pham Hoang Tra My, who won many gold medals at International Piano competitions.
Nguyen Thi Yen, who won 10 medals at the Pencak Silat national, regional and world competitions; Nguyen Si Binh, 33, from the Department of Drug Crime Prevention, for nabbing drug trafficking rings; Tran Trung Kien, 35, Chief of Police Drug Investigation department.