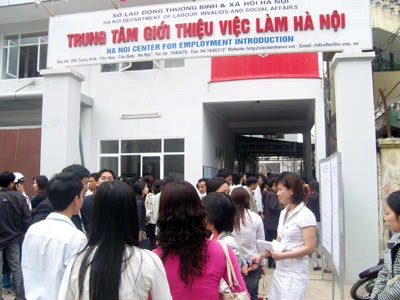 Hundreds of people flock to jobs centers to find a job.
The Ministry of Labor, Invalids, and Social Affairs has informed Prime Minister Nguyen Tan Dung that tens of thousands of people lost their jobs last year found jobs in the third quarter, only 11,200 lost-job people remain unemployed, 68 percent down since the end of June.
As the economy climbed out of the global financial crisis, thousands of unemployed workers found jobs in the third quarter, it said, adding the demand for workers has also risen.
Binh Duong Province needed around 20,000 workers, Long An 8,700, Vinh Long 7,000, and Ca Mau more than 3,000, it said.
In related news, a conference on measures to build capacity among ethnic minority officials in the Central Highlands region was held in Kontum town on November 10.
Ethnic officials make up more than 30 percent of all public officials in the highlands provinces.