The Environment Protection Department on Wednesday revealed the test results of the huge pesticide contaminated mud pile dumped at the Dong Thanh waste landfill site in Hoc Mon District in Ho Chi Minh City.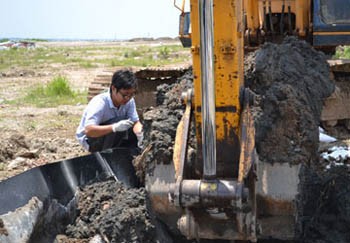 An official taking samples from the contaminated mud pile for testing, from the Dong Thanh solid waste landfill site in Hoc Mon District, HCMC (Photo: Phapluat)
According to the analysis tests conducted by the Institute of Natural Resources and Environment at the HCMC National University, the dumped mud pile contained 11 pesticides and some other toxic chemicals, and was partially buried at the Dong Thanh solid waste landfill site in Hoc Mon District.
The Environment Protection Department under the Ministry of Public Security revealed that among the chemicals found, BHC substance was found to be two times higher than nationally accepted standards for toxic waste. The other four herbicides found included p,p'-DDE; o,p'-DDD; p,p DDD and p,p'DDT, all of which harm the environment and human health if not administered in right proportions.
However, it was found that about 900 tons of toxic waste had not been handled as per the environmental protection law.
Colonel Phan Huu Vinh, deputy head of the Environment Protection Department said that the waste had been treated by spraying GEM-K, but this method was not acceptable under the environmental law. GEM-K is just a deodorizer which doesn't affect or treat toxic waste.
In other words, if the toxic chemical is exposed to the sun for a long time, there can be unforeseen negative consequences. Besides, this huge mud pile has also caused difficulty in transporting and handling, according to Colonel Vinh.
During recent meetings with city leaders, the department has proposed to them to treat the waste without delay and estimate the impact it will have on surrounding areas.
This case was discovered and reported by the management board of the Tan Son Nhat– Binh Loi outer belt road project. They uncovered 600 cubic meters filled with about 900 tons of mud pile waste containing pesticides at a concrete basement in Hiep Binh Chanh Ward of Thu Duc District.
The basement was built in the Binh Trieu antiseptic plant compound, which had been handed over for construction work of the outer belt road.
When workers began to clear the site on June 21, they found the basement dumped with toxic waste, which is said to have existed for several years.
A high concentration of poisonous chemicals have soaked into the ground over time and contaminated the surrounding area, letting off a foul stinking smell.
Police officials inspected the garbage dump in late September and found that 40 tons of pesticide had been buried in the landfill.