This year, all proceeds from the annual "Doing good deeds during Tet" charity program for poor farmers will be used for repairing homes, providing health insurance, and offering scholarships.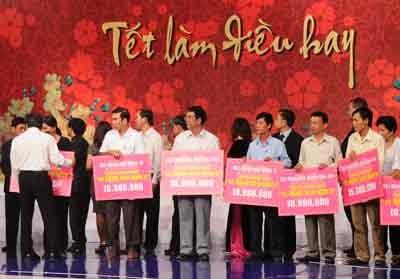 Benefactors and the sum of money granted to the program last year (Photo: Courtesy of Cat Tien Sa)
In total, the homes of 253 disadvantaged farmers will be refurbished, 977 health insurance cards will be issued, and 500 scholarships will be given to farmers' children who are pursuing higher education.

For years, the program, which is broadcast live on TV, has received contributions from individuals and organizations to bring a prosperous Tet holiday to needy farmers.

Highlights of this year's event include a gem-inlaid cell phone giveaway, a "Lucky" SIM card provided by MobiFone, and an auction of a unique apricot tree artwork designed by famous city artists.

The annual charity show will be organized by Ho Chi Minh City Television and the HCM City Farmers Association.

Last year, a total of VND2.6 billion was raised through the program. Around VND800 million was raised through auctions and VND67 million was collected through phone-in donations.

The money was used to buy 2,000 TV sets for poor farmers.  

This year's program will be broadcast live on HCMC Television's HTV9 on January 29.

To date, organizers have received VND500 million from the Binh Dien Fertilizer Company; VND50 million from the Binh Chanh Commercial and Construction Joint-Stock Company; and VND20 million from the Nha Viet Design Company.

Hiep Hung, meanwhile, will donate iron sheets to construct houses and the Robot Company has offered to donate electric wires.