As of December 30, 265 enterprises in industrial parks and export processing zones in Ho Chi Minh City announced bonus for laborers in Tet holidays ( the Lunar New Year).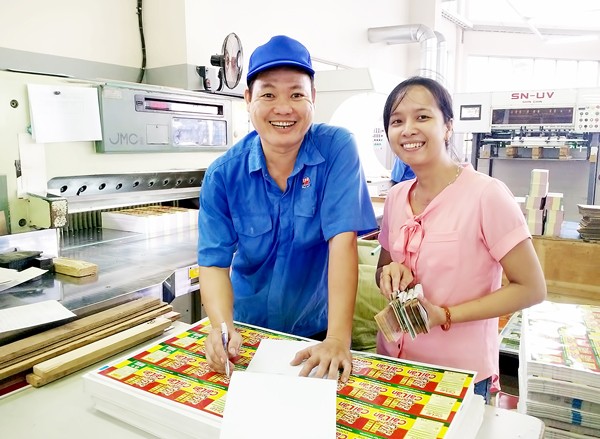 Workers of Printing Company No.7 are happy at receiving Tet holiday bonus (Photo: SGGP)
The Managing Board of Industrial Parks and Export Processing Zones yesterday announced Tet holiday bonus at a press brief. As per the managing board, the highest bonus in HCMC is VND1 billion (US$43,919) of a local company to produce studying items and equipment.
Lowest bonus in both domestic and foreign-invested companies is VND3.5 million. Average bonus in domestic companies is VND7 million while in foreign companies is VND6.8 million.
So far, 30 enterprises faced difficulties in paying bonus for employees because these enterprises are short of orders.
265 enterprises just account for 30 percent of total enterprises in industrial parks and export processing zone in the city, said Tran Cong Khanh from the managing board. In the next time, the board will urge company leaders to report the bonus to comfort employees.
In the special occasion, labor unions in the industrial parks and export processing zones liaised with managing boards and entrepreneur association to give 6,000 bus fares to its poor members whose fatherland from the central province of Phu Yen to Hanoi, three Mekong delta provinces and two Southeast provinces. In addition to bus fare, each worker will be offered a gift worth VND150,000.
In related news, the Department of Labor, Invalids and Social Affairs in Hanoi yesterday said that the highest bonus is over VND100 million and the lowest is VND500,000. Head of the department's labor, salary and social insurance ward Nguyen Ba Luc said that this year bonus in Hanoi is 10 percent higher than last year thanks to leaders' concerted efforts to take measures helping enterprises.
The Department of Labor, Invalids and Social Affairs in the central city of Da Nang said that as of December 30, 431 enterprises reported bonus foe Tet holidays. The highest bonus is VND300 million for managers and lowest is VND70 million for employees of an equitized state-owned company. Generally, lowest bonus is VND3 million and VND1 million for a manager and a laborer respectively.
For foreign-invested company, the highest bonus for managers and employees is VND100 million and VND33 million for each respectively while the lowest is VND2 million and VND500,000.
The Department of Labor, Invalids and Social Affairs in the southern province of Dong Nai said that a foreign-invested company in the province announced to offer a bonus of VND740 million as the highest for labor while the lowest is VND400,000 at a private company.