After four days of rescue efforts, the bodies of five people buried under the landslide have still not been recovered from the rubble at the waste dumpsite of Phan Me coal mine in the northern province of Thai Nguyen.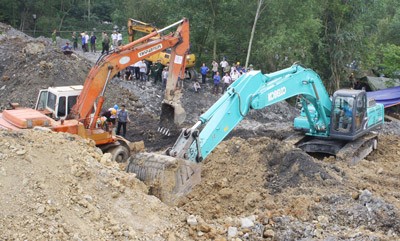 Thai Nguyen Province has mobilised rescue teams to search for the five buried victims (Photo: SGGP)
Nearly four hundred rescue workers continued to dig through huge mounds of soil and rubble on Wednesday, using all available equipment, to look for the buried victims in Phuc Linh Commune of Dai Tu District.
Dang Viet Thuan, deputy chairman of the provincial People's Committee said nine excavating machines, one bulldozer, five trucks and other very advanced equipment, along with six police dogs have been mobilised in the search operation.
However, the landslide is spread over a four hectare area and has been a very difficult task for the rescue workers who are struggling to unearth the buried victims.
According to the provincial chairman Duong Ngoc Long, they are focused on searching for those buried. After this task is complete then only will leaders of Thai Nguyen Province discuss other aspects of this incident. All those accountable for the cause of the landslide will be severely dealt with.
The waste dumpsite of Phan Me coal mine is located on nearly 100 hectares in Phuc Linh Commune and encircled by rice fields, houses, ponds and gardens of local residents in the three Hamlets Khuon 1, 2 and 3.
Related article:
One dead in landslide in Thai Nguyen Province