Thai Nguyen, considered as Vietnam's northern land of tea, will organize the first International Tea Festival 2011 on November 11-15, the organizers announced in Ho Chi Minh City Friday.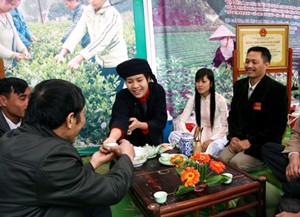 File photo shows tea culture in Thai Nguyen Province
Provincial People's Committee Chairman Duong Ngoc Long presided over a press conference in the city to announce the event to the Vietnamese public and international visitors.
The province is the land of tea in the north, with famous tea brand names like Tan Cuong, Trai Cai, La Bang, and Vo Tranh, he said.
The land also houses tourist attractions including mountains, caves, grottoes and beautiful waterfalls, he added.
A beauty contest will be held as part of the tea festival, according to the organizers.

The candidates will participate in ao dai (Vietnamese traditional robe) and swimsuit displays, and express their knowledge of tea culture and the tea regions. The organizing panel will present prizes to contestants who prepare and serve best and who pick tea leaves fastest.
The first winner will be responsible for social work and promoting Vietnamese tea products and culture, according to the organizers.
The festival mainly aims to promote Vietnam's tea drinking culture and tea products, as well as tourism in northern Vietnam, the organizers said.