Vietnam's Politburo member and Minister of Public Security, General Le Hong Anh, welcomed Thai Minister of Social Development and Human Security, Issara Somchai, in Hanoi on May 30.
Cooperation between the Vietnamese Public Security Ministry and relevant Thai agencies has recently been consolidated and developed, said General Anh.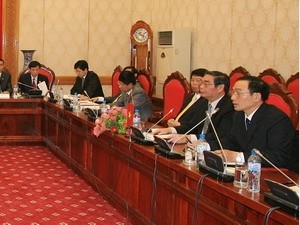 Vietnam's Public Security Minister Le Hong Anh (2nd, R) during his meeting with Thai Social Development Minister Issara Somchai (not seen in the picture) in Hanoi May 30, 2011 (Photo: Vietnam News Agency)
Political and security cooperation between the two countries has contributed to boosting the implementation of the joint statement within the two nations' cooperation framework, Anh said.
He also expressed gladness at the results of cooperation between Thailand's law enforcement agencies and relevant agencies of Vietnam's Public Security Ministry, especially in the implementation of the cooperative agreement on human trafficking prevention.
General Anh spoke highly of Thai agencies' efforts in smashing a human trafficking ring from Vietnam to Thailand, rescuing 15 Vietnamese women and five children.
Minister Somchai expressed his expectation that the two ministries would strengthen cooperation to continue to make more achievements in ensuring social security and fighting crime.