The legislative bodies of Vietnam and Thailand had reached a high degree of consensus on how to develop their co-operation through specific activities, including the exchange of delegations and experience and joint supervision of governmental agreements and programmes.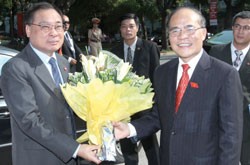 National Assembly Chairman Nguyen Sinh Hung (R) welcomes President of the Thai National Assembly Somsak Kiatsuranont.
The consensus was reached at talsk held yesterday between National Assembly Chairman Nguyen Sinh Hung and President of the Thai National Assembly and Speaker of the Thai House of Representatives Somsak Kiatsuranont.
Hung expressed his sympathy over heavy losses the Thai people had suffered in recent floods.
He congratulated Thailand on its recent achievements and said he believed that with political stability, the neighbouring country would see further development.
Somsak Kiatsuranont highlighted the special traditional friendship between Vietnam and Thailand, referring to the period President Ho Chi Minh operated in Thailand.
He expressed his wish that relations would be preserved and promoted through new achievements.
The Thai legislative leader said his country sought to develop relations with neighbouring countries. His current visit was expected to further promote co-operation between the two parliaments and increase friendship between the two governments and peoples.
He asked the two countries to set specific goals for their co-operative programmes and join hands in implementing the common goal of building a strong ASEAN Community by 2015, in order to obtain efficiency in the relations.
He proposed that Vietnam and Thailand, the world's leading rice exporters, work closely in the field in the interests of each side and to ensure the world's food security.
The two sides agreed to boost co-operation in rice production, processing and export.
In a separate reception for Kiatsuranont, Prime Minister Nguyen Tan Dung affirmed that Viet Nam attached importance to co-operation with Thailand.
Dung welcomed an upcoming visit to Vietnam by Thai Prime Minister Yingluck Shinawatra.
He asked the two countries to work closely in using Mekong River water in an efficient and sustainable manner.
He said the Vietnamese Government highly valued the friendly co-operation between the two countries' legislative bodies.
Somsak Kiatsuranont said he wished relations between the two legislative bodies and the two governments would be enhanced, with co-operation in all fields for the development of each country, contributing to peace, stability and development of the region and the world.
The two countries would discuss specific co-operation requests, especially in economics, trade and investment, during the visit to Vietnam by Prime Minister Yingluck next week, Somsak Kiatsuranont said.