The Thang Long Boulevard Highway, the longest and most modern highway in Vietnam, has developed cracks and depressions within a short span since its opening.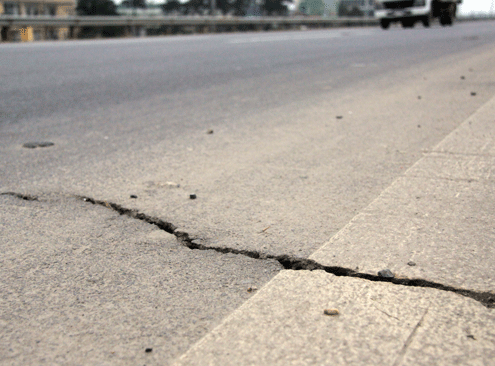 After a short time of inauguration, many cracks and depressions have appeared on the Thang Long Highway.(Photo:Vietnamnet)
The highway was one of the key projects started on the 1,000th anniversary of Thang Long. Although it has been operational for just a short time, cracks have begun to appear on the surface of the road from Pham Hung Street to the Tich River.
The cracks average one metre in length and 7 centimetres in width and are a concern to vehicles travelling at high speed.  As a precautionary measure, the highway has now been downgraded.
An official from the Vietnam Construction Import Export Corporation (Vinaconex), that built the highway, said the corporation is currently inspecting the road.
The Thang Long project management unit, investors of Thang Long highway, said that the major reason for cracks and depressions could be weak and porous soil and poor quality construction. The contractor is presently investigating the cause of the cracks and looking for measures to repair the problem.