Party General Secretary Nong Duc Manh has asked Thanh Hoa province to accelerate industrial development with focus being placed on the industrial sectors at the Nghi Son economic zone.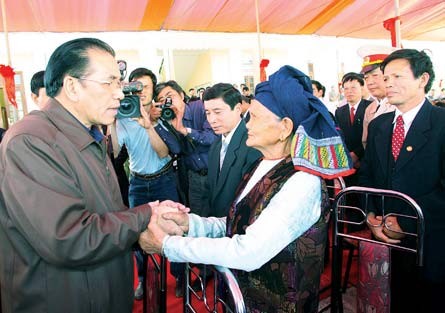 General Secretary Nong Duc Manh meets with some residents in Thuong Xuan district, Thanh Hoa province (Photo: SGGP)

Visiting the northern province from Dec. 12-14, the Party leader also stressed that due attention should be paid to environmental protection to ensure sustainable development.
Together with agricultural development, the province needs to develop forestry and create proper policies to encourage people to push up afforestation, he said.
The local authorities reported that so far more than 20 projects, including an oil refinery, a thermo-power plant and a steel mill, have been licensed to invest in the Nghi Son economic zone, with total registered capital of 8.18 billion USD.
The western region of Thanh Hoa province reported an annual growth rate of 13.5 percent three years after it implements a socio-economic development programme, with poverty rate down from 63 percent in 2005 to 37 percent in 2008.