The Mekong Delta had experienced a hard process since the 19th century to turn a salt-marsh and wild region into the rice granary of Vietnam with over 3.8 million hectares of agricultural land and annual rice output exceeding 20 million tons now.
After spontaneous emigrations and wars, Lord Nguyen Phuc Anh unified the country and found the Nguyen Dynast in 1802 when the region began to stabilize and develop. A year later, the court promulgated the law heavily punishing those who left their land fallow.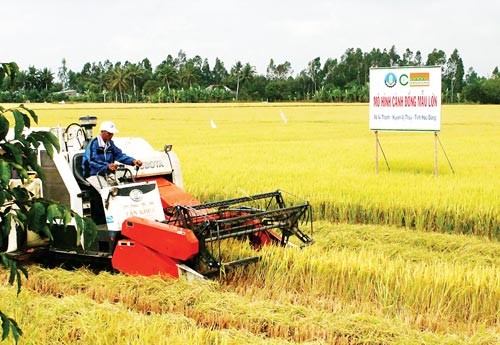 Rice harvest in a large-scale paddy field in the Mekong Delta (Photo: SGGP)
Nguyen kings continued carrying out lords' policy in 1807 to encourage reclamation, establish villages and provide villagers with rice and financial assistance to produce and settle. Settlers and good rice growers were exempt from serving in the army, lags with good labor performance received remission.
Irrigation began to develop in combination with traffic and national defense in 1699 when Le Thanh Hau Nguyen Huu Canh, general of Lord Nguyen Phuc Chu, commanded troops to conquest mutineers in Chenla, who usurped the throne and trespassed on Dai Viet's land to loot, and help Chenla king back to the throne.
The troops built canals to take corvettes from Tien River to Hau River such as Ong Chuong canal in An Giang province and Vam Nao canal.
Till the time of Kings Gia Long and Minh Mang, other historic irrigation works were constructed like Thoai Ha and Vinh Te canals in An Giang.
 
After invading Vietnam, the French colonialists continued broadening the irrigation system and developed agricultural production with science and technology advances and mechanization.
In 1880-1890, they used machines to dig 2.1 million cubic meter of land to build canals and increased farming land by 169,000 hectares compared to that under the Nguyen Dynasty.
Thence, they continued digging million of cubic meters of irrigation land a year, taking the total number to 200 million cubic meters in 1880-1930. Besides, they forced local people to manually build many other irrigation works.
These have basically formed the main canal system for the region as present and expanded production land to over 2.4 million hectares, which was only 319,000 hectares in the entire southern region in 1879. Average rice export output jumped from 360,000 tons per year to 1,454,000 tons in 1925-1929. Rice export tax sometimes reached XPF4 million (US$38,000) in 1875-1884.
After the country was unified in 1975, agricultural production was always far behind targets because of policy problems. Sometimes, farmers in the Mekong Delta must eat rice mixed with cassava and sorghum although they were living in the country's rice granary.
Breakthrough
The 6th National Congress of the Communist Party of Vietnam in 1986 put forward two programs to implement the country's overall reforms including 'food program' and 'export program,' making great contributions to the Mekong Delta's rice production industry.
From an underfed nation, Vietnam was able to ensure domestic food security and began attending in the world rice export market three years after renovation.
According to the Cultivation Department under the Ministry of Agriculture and Rural Development, the Mekong Delta has increased the area of winter spring rice crop by eight times and summer autumn rice by 4.3 times for the last two decades.
The region has gradually lifted the number of crops to two then three a year from only one in 1976 to meet food security and contribute to exports.
Rice cultivation area has been stable for the last five years with 3.85 million hectares, creating jobs and high income for 1.46 million households, who accounts for 73.5 percent of total farming households in the Mekong Delta.
Cultivating or not cultivating the third crop annually--summer winter--has been a controversial topic of scientists and managers because diseases usually outbreak at that time. However the Ministry of Agriculture and Rural Development has decided to take it into three main crops every year.
Rice productivity in the Mekong Delta has increased 4.4 percent and output hiked 9.3 percent a year since 1980.  Irrigation investment and farmers' creativeness raised average productivity from 3.30 tons per hectare in 1990 to 5.38 tons in 2009 with yearly average output of over 20 million tons, making Vietnam among the world's top rice exporters.
Technology advances and mechanization have been applied to create new rice varieties with better resistance ability against diseases and climate change, farming methods, harvest, preservation and processing.
Large-scale paddy field modal, part of the Government's agricultural restructuring program, has brought initial successes creating stable consumption sources and improving farmers' income.
Renovation and development achievements have affirmed the value and strength of rice, a national mainstay product, in the Mekong Delta.