Right after Mr. Bao Dai, the last emperor of the last dynasty in Vietnam, read his abdication edict, the Nguyen dynasty's flag was lowered and Vietnamese flag--a large yellow star centered on a red field--was hoisted and streamed in the wind amid tremendous applause and slogans 'Long live the independence of Vietnam! Long live the Democratic Republic of Vietnam!'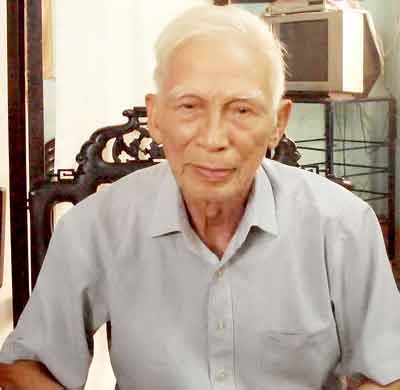 Historic witness and revolutionary veteran Nguyen Huu Huong (Huong Tho) (Photo: SGGP)
At that time Mr. Bao Dai said that he would rather be citizen of an independent country than king of a slavery nation.
Ahead of the 70th anniversary of the August Revolution (August 19) and National Day (September 2), Sai Gon Giai Phong Newspaper talked to revolutionary veteran Nguyen Huu Huong, former member of the Nguyen Tri Phuong Liaison Committee in the August Revolution, about the historic atmosphere that day in Hue imperial city.
On August 30, 1945, residents' deputies from six districts in Thua Thien-Hue province together with delegations of other classes from Hue city gathered correctly in lines in the yard from Ngo Mon Gate.
Eighteen lines of schoolgirls in white Ao dai were in the front, followed by women in violet Ao dai. A 130 member military music band stood on the right and armed soldiers on the left. Pupils in white shirt and dark blue trousers were rewards. In the middle, residents' deputies with Vietnamese flags and banners in their hands arranged into a big square-standing for tight solidarity.
Amid the solemn atmosphere, Mr. Bao Dai moved towards the Ngo Mon Gate from Kien Trung Palace of the Hue imperial citadel to hold an abdication ceremony and hand over the gold seal and sword to representative of the provisional Government of the Democratic Republic of Vietnam.
According to the king's aspiration, the Nguyen Dynasty's flag was raised for the last time. After he read an abdication edict, the Nguyen Dynasty's flag was lowered and the yellow star and red flag was hoisted in tremendous applaud and 21 celebration gunshots.
"Deputations! Henceforward, I am a normal resident of an independent nation. Could you give me something to mark this day," he said in his statement.
Representative of the provisional Government of the Democratic Republic of Vietnam pinned a Vietnamese flag badge on his jacket, a present from the revolutionary people's committee to royal members.
"Every people, please welcome citizen Vinh Thuy," the representative spoke in a loud voice amid thunderous applause.
 
Many children of patricians and high-ranking mandarins of the Nguyen Dynasty positively attended two wars against the US and French invaders. Some became excellent commanders in the army force such as Lt. Gen Cao Van Khanh, former deputy chief of staff of the Vietnam People's Army, and major general Nguyen The Lam, the first commander of the Vietnam People's Army's Tank and Amour Arm.