Farmer pupils do research
Since Nguyen Ngoc Hai became a teacher of the An Lac Thon high school in Ke Sach District, the southern province of Soc Trang, he has nurtured a wish of cultivating love for science into country pupils, who go to school in the early morning on boats with oil-lamps in hand and cut grass for making their living in the afternoon.
Because pupils often ask for leaves to earn their living in fruit or harvest or fishing seasons, Mr Hai, together with other teachers, has for years persuaded pupils to go to school; it is therefore a great achievement to convince pupils to go to school in such seasons.
Fully understanding the situation, teacher Hai still went on with his wish to encourage pupils to do scientific research although he had no supporters.
When the competition themed "Improvement of using and protecting water supply" for high school and vocational pupils was launched by the Ministry of Education and Training, Hai photocopied the documents and pasted it on the bulletin billboard; teachers only smiled, pupils are eager to watch, and then read them and walk away.
Teacher Hai has seen all but he was determined not to be discouraged. As a biology teacher, he encouraged his pupils to write down their mothers and grandmothers' experience of making water clean.
When reading their paper, Hai was so happy that he nearly burst into tears because he found such folk experiences could be developed into a scientific research.
He said, "Seeing country people clean water by using luc binh (water hyacinth), I thought about a refiner for damp water. Learning that they put vong vang (Abelmoschatus moschatus) into flour to make cakes tougher, I found out moschatus and banana resin is adhesive and then another research entitled " Natural alum is used for refining water" arose."
Realizing pupils' good ideas, Hai advised his pupils to form a group to do research. He said, "If pupils are interested in doing research, I feel happy no matter how hard it is. Sometimes thinking back, I can see that ignorance is a bliss.
His knowledge is only in the filed of biology and little experience of doing research; he, thus, felt puzzled at first. In his hand are some tubes, litmus papers, basic chemical substances and two microscopes; however, he guided six research groups of poor pupils.
Every Sunday Mr Hai and his pupils were seen then going to small villages by boats to borrow ponds for doing research on water treatment. Farmer pupils learned to interview and take notes of the experience of people.
Some days, they go to the remote and distant Kh'mer villages where factories caused pollution to big rivers to take water samples, bringing it home to try ways of refining.
Hai got the last refining sample tested by the HCMC testing institutes. His wife, Bich, complained that it cost over VND 800, 000 a sample, which is a half of his salary but he did not care."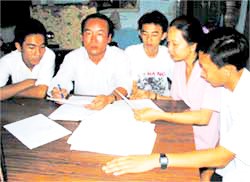 Teacher Hai and his pupils are preparing their project
Mr Hai smiled, saying that it is necessary for making people believe in his and pupils' research. 
Moreover, he has to buy books on science. His dream of doing scientific research is based on the teacher's small salary of his and his wife.
His dream comes true
He achieved the highest marks in his teaching practice. Once, he arrived at the southern province of Soc Trang, meeting the director of An Lac Thon high school, who invited him to teach at the school. He accepted because he loved the poor pupils here though he had a better job teaching in the southern province of Can Tho.
The school is too poor to sponsor his scientific research movement although the director board supported it.  He and his pupils have done it with a small budget.
Last year, their research won the third prize in the national competition; this year, they won one third and three encouraging prizes in the same competition.
Soc Trang is the only province in the Mekong Delta wining prizes in the competition. Mr Hai was so happy, making calculation that the reward was enough for research and transport cost so far.
Last year parents' association granted VND 500,000 to the research groups for transport cost and a sum of money he borrowed from the school's cleaning fund. He said, "I am worried about winning. If we don't, it also means we get into debt."
Although facing so many difficulties, he has still prepared the research subject for the following competition when he came back from the awarding ceremony this year.
His wish of getting farmer pupils to science is nearly coming true. His pupils are so interested in doing research that they come to school in their free time for watching algae through microscopes. Even on Sunday, they come to school, insisting him on letting them bring the microscope home for research.
His effort and interest have been awarded with the membership of the Vietnamese Communist Party. It is the most important news he gave us.