New sedans are parked on the slope leading to Triệu Mùi Mủi's house, which stands beside beautiful golden terraced paddy fields.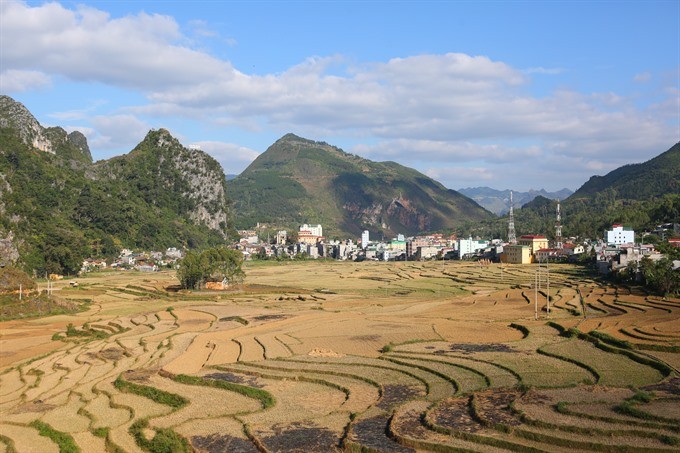 After the harvest: Once the rice has been harvested, the monsoon comes and the fields start to glow. VNS Photo Trương Vị
It is early in the afternoon. We've just finished a long, ardous climb up and down Chiêu Lầu Thi Mountain at 2400m above sea level, now accessible only by motorbike or on foot.
The road on the mountain used to be good but recent landslides and floods all but destroyed it.
We are in Hà Giang Province's Hoàng Su Phì District.
Mủi's home is one of eight houses selected to be part of a community-based homestay project co-ordinated by Swiss Intercooperation, a development organisation based in Switzerland, and Helvetas, a well known non-governmental organisation that has been working in Việt Nam since 1994.
The project is being implemented with the support of the Hoàng Su Phì and Trùng Khánh (Cao Bằng Province) district administrations.
"We are in the final stage of the first phase, where the households have started to take in visitors since June," said Phạm Chí Nhân, a district official involved since the early days of the project.
The northernmost province of Hà Giang is famous for its beautiful mountains and slopes which host terraced fields of rice that are an eternal delight for photographers with their changing colours. The terraced fields are located mostly in Hòang Su Phì District.
Hà Giang is also home to Lũng Cú, the massive flag tower that marks Vietnamese territory and is virtually a pilgrimage spot for Vietnamese at home and abroad.
Despite the magnificent grandeur that has been captured in jaw-dropping photographs, people's lives are still hard and the local government is looking to improve it in inclusive ways, local officials told us.
"We want sustainable development so that everyone in the community benefits," Nhân said.
The chosen host families have received training on how to interact with tourists, learnt some common English phrases and words.
"Tourists who come here have their guides and translators, but they still want to talk to local people, no matter how broken their (locals') English might be," Nhân said.
The project has taught the hosts to keep clean bedsheets, blankets and pillows, and they need to invest in new restrooms.
Something for everyone
"If a family can't afford new beds and rooms, they can cook food," Nhân said. "If a family is too poor to be providing either service, they can still grow vegetables to sell to the households that cook food. So we want to get everyone involved and the community to benefit as a whole.
"Some families say they can provide accommodation and food and porter services on their own," Nhân said, "but the programme officer must co-ordinate in such a way that everyone gets something to do."
Over a dinner of typical local dishes like the Mông black chicken (which has black skin and sleep on the trees instead of coops) and carps raised in the rice fields, Nhân told us the long story of how it all happened.
"There was a project by Helvetas to grow green tea here in Hòang Su Phì.
"But we wanted to steer the local economy in another direction because it was getting very difficult to raise incomes from farming. Industry was out of question because of the mountainous terrain.
"Then we thought of tourism."
After considerable to and fro, including visits by district officials to Hà Nội, a tourism conference to present the project, and tourism companies visiting the district, Helvetas decided in September 2015 to provide 500,000 Swiss francs (US$500,000) to be disbursed over the next five years.
Nhân said the new project would transform locals' lives.

In his office in Hà Nội, Cao Đại Hùng, Helvetas project director for community-based tourism, told Sunday Việt Nam News: "We would like to connect tour companies and the communities to work out a new community-based programme that draws on the failures of other community tours.
"The biggest setback of community-based tourism is weak market connections, and this is true worldwide."
It seemed to us that the project had succeeded so far in covering most bases.
Drinking customs
As we took shots of the picturesque golden rice terraces in front of her house, our host Mủi invited us in, dressed in a typical Dao blouse and dress.
Before we began partake of the meal she'd prepared for our group, she proposed a rice liquor toast. "Please drink with me. This is to welcome all of you to our house."
It was certainly not her first shot, as she'd welcomed other guests before our group. For us, it was the fourth toast of the day.
The first one was with an official from Hoàng Su Phì District who led us to the top of the long-forgotten mountains, the second with a commune official, and the third with the former chairman of the district People's Committee on his way to take some guests around the region.
By the time Mủi proposed the toast, I was not in a good shape. I can't drink and I don't drink, usually. But I had to interview her for my story. I couldn't leave this place without talking to her. She was all smiles and being very nice, but I would not be able to continue the conversation in my state.
"You have not finished your shot and I can't shake your hand," she told me, still smiling. It is a tradition that as the host, she needs to drink with her guests first and shake hands afterwards, she explained.
As we talked, though, she began to open up: "Sometimes I don't like to drink. I don't want to, but I have to drink when we have guests visiting."
"You don't have to, when you don't want to," I told her as firmly as I could before running out to her backyard and throwing up all the shots and the food we'd just been served.
When I returned, another group was coming in to say goodbye.
A man in his 70s introduced himself as writer and wanted another toast,.
Mủi's husband promptly picked up his shot glass, but the provincial official, Vũ Thế Phương, obviously knew him from before and stopped him: "Hey, you with your stomachache, do you want to kill yourself?
"Please get your medicinal concoction and we'll toast with that."
It was good to see the official showing his concern for Mủi's husband, but I felt sorry for her, because it meant she would have to take on all the responsibilities for greeting guests. Not fair.
While drinking is embedded in the mountainous culture and has some positive aspects, I could see that it could get out of hand and harm people if it was not checked.
Mủi and her family had barely started to benefit from the pilot tourism project, and her husband had fallen sick.
Since the families cannot be tasked with informing visitors about drinking courtesies, the need for moderation should be part of tour companies' guidelines.
Mounting trash
Another worrying aspect was the large amounts of daily trash generated by increasing numbers of tourists. There is a real threat that the local landscape would be defaced.
On top of the Chiêu Lầu Thi Mountain, we found empty plastic bottles and snack packages.
"It's Vietnamese tourists who throw these," Phương said, adding, "western tourists are very careful not to trash the place."
While it is the local government's responsibility to manage both the flow of tourists and the garbage that is generated, there has to be an effort from all sides to deal with the problem.
Uncontrolled littering and dumping is something that has been killing other top destinations in the country, including Sa Pa and Lý Sơn Island.
"Yes, we have not given enough thought to this – drinking and trash management, and we will definitely take these up," project director Hùng told us.
"But it's too early to put a limit on the number of tourists visiting Hoàng Su Phì. The number is still low and we would be happy to see it grow."