Residents of Hai Minh Ward in the central province of Binh Dinh caught a big one while fishing in the Thi Ninh swamp - a cannon.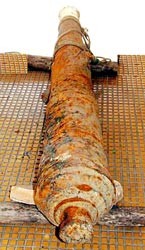 The cannon was detected in Thi Nai swampy
The cannon, made of alloy iron is 2.4 meters long, and weighs about 500 kilograms. Its gun barrel has a diameter of 0.20 meters, and the circumference of the rifle stock is 0.98 meters.
This is the third cannon that has been found in the Thi Nai Swamp and brought to the Binh Dinh Museum.
In Vietnamese history, the armies of the Nguyen and Tay Son dynasties clashed at the Thi Nai swamp on February 27th, 1801, and historians say there is a possibility that these cannons were used then.
This possibility lends great value to the exhibit as a vestige relating to the Tay Son movement – a momentous period in the nation's history.