The third Vietnam-UK Joint Economic and Trade Committee meeting was held in Hanoi on Oct. 6 to diversify trade and increase export turnover as well as boost bilateral relations.
At the meeting, Vietnamese Deputy Minister of Industry and Trade Le Danh Vinh asked the UK to continue supporting and recognizing Vietnam as a market economy.
He also required the European Commission not to extend the imposition of anti-dumping tariffs on Vietnam's capped leather shoes exported to the EU after the review ends.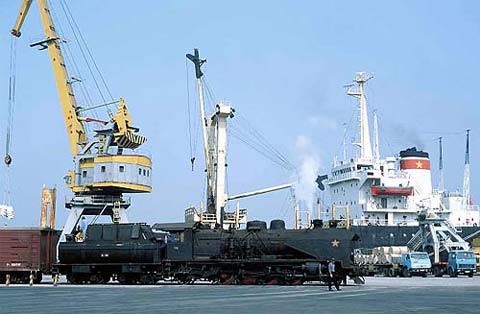 A view of Hai Phong Port in Hai Phong City. Among what was discussed at the 3rd Vietnam-UK Joint Economic and Trade Committee meeting was handling imported goods at the port.
Trade promotion activities between the two sides should be accelerated through a cooperation framework agreement between the Vietnam Department of Competitiveness and the UK's Office of Fair Trading, according to the Deputy Minister.
Vietnam-UK trade and investment has seen steady development in recent years, Deputy Minister Vinh said, stressing that in particular, the UK government has maintained steadfast support for Vietnam's economic development.
In the first eight months of this year, two-way trade turnover reached 1.1 billion USD, despite of the global economic crisis. Vietnam exported seafood, cashew nuts, coffee, tea, pepper, furniture, ceramics and garments to the UK, and imported machinery, equipment and accessories, cattle feed, pharmaceuticals and chemicals.
The UK government provided 274 million USD in aid to Vietnam in the 2000-2008 period.
Also at the meeting, Sir Andrew Cahn, UK Trade and Investment Chief Executive, mentioned five main issues relating to a roadmap for telecommunications and the opening of the retail market for foreign investors; development of the Nghi Son 2 thermal electricity project; foreign life insurance firms operating in Vietnam; handling imported goods at Hai Phong Port and the role of the embassy in formulating one-door mechanism for British investors who want to do business in Vietnam.