Severe scorching weather over the last several days in the northern and central regions has resulted in thousands of children suffering from heat stroke.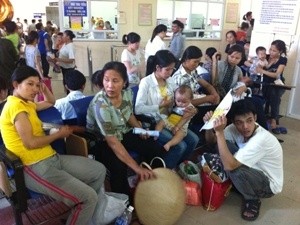 Parents with sick children wait their turn at the National Hospital of Pediatrics (Photo: VNA)
With temperatures touching 38-39 degrees Celsius, nearly 2,000 children have been reported sick in the National Hospital of Pediatrics alone, almost 40 percent higher than normal.
Other hospitals like Bach Mai and Saint Paul have also reported far more children being hospitalized from heat stroke.
Nguyen Tien Dung, head of the Pediatrics Ward in Bach Mai Hospital, said they have admitted upto three to four hundred children during the last few days; with the result that two or three children now have to share one bed.