Tens of thousands of people are now rushing to return back to the big cities like Ho Chi Minh City, Hue, Danang and Hanoi for work, study or business after a long Tet Lunar New Year break with their families in their hometowns in the northern and central provinces.
Hoards of them are finding it difficult to get bus and train tickets to return to the south, especially towards HCMC, according to SGGP newspaper.
There are currently about 14 Thong Nhat trains running from the Northern provinces to HCMC every day, bringing in hundreds of people.
At the Eastern bus station in HCMC yesterday, a total of 1,500 buses with 45,000 passengers from northern and central provinces arrived in the city.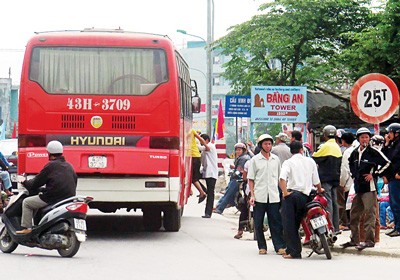 People in Quang Nam queuing to get on bus to return to the south in Jan 29 (Photo:SGGP)
A similar situation prevailed in the other bus stations of HCMC, where passengers from the Mekong delta provinces were returning. Yesterday morning alone saw 20,000 people arriving at one of the stations.
Migrant workers in particular flocked to bus and train stations to get tickets to go back to the southern provinces and HCMC, but ended up waiting all day long along National Road 1A in hopes of finding a bus that would take them to the city, so they could resume work today.
On Saturday, January 28, thousands of people could be seen waiting along National Road 1A from the Hue T-junction in central Da Nang City to the Huong An T-junction in Quang Nam Province in the hope of finding any means of transport to get to HCMC, Binh Duong, Binh Phuoc and Dong Nai Provinces.
With almost all the buses going above capacity, most did not have much luck.
In the central provinces of Quang Tri, Quang Binh and the city of Hue, since Jan. 28 or the sixth day of Lunar New Year, thousands of people gathered along National route 1 to find transport to the southern provinces.
Serious traffic congestion was reported on National Road 1A since January 28 because of the high number of vehicles travelling from northern and central provinces towards the south.
Meanwhile, bus and train tickets have been sold out until February 5 (15th day of Lunar New Year), according to the provincial officials.
On the seventh day of Lunar New Year, a SGGP reporter noticed how thousands of people waited exhaustedly and in vain throughout two to three nights in a row, in the hope of getting a bus or train ticket.
Tickets for the double-decker buses on the Hue to HCMC route have all been sold out for the next few days.
According to Doan Van Thanh from Thua Thien-Hue Province, a one way ticket from Hue to HCMC cost VND 900,000 (three times higher than usual).
However, even at that price he could not buy a ticket as none were available, Thanh said angrily.
Thanh added that he had waited the whole morning but could not find a single available seat on any of the buses. He said that buying tickets from HCMC to his hometown and back during the Tet Lunar New Year has been frustrating in recent years.
Taking advantage of this high demand, many bus companies have increased their ticket prices by 30 to 40 per cent. A berth on a bus from Da Nang to HCMC has gone up from VND670,000-VND750,000 (US$32-36),up by VND1 million ($48).
Hundreds of people also flocked to Da Nang railway station to buy train tickets to head south but were disappointed.
There are only 1,500-1,700 train seats from Da Nang to HCMC every day, but the demand is for 2,500 soon after Tet. Train tickets have been sold out until February 5, according to officials at the Da Nang railway station.
Tickets on luxury buses on the Da Lat to HCMC route have also been sold out for the next few days.
Tickets on buses run by the Phuong Trang and Mai Linh companies on the Da Lat – HCMC route have also been sold out until January 31.
The situation is the same on buses plying the Buon Ma Thuot City – HCMC route. All the tickets were sold out a few days ago. For the Tet festival this year, the price of tickets from Buon Ma Thuot City to HCMC increased by VND50,000-VND100,000 over normal days.
The situation is the same on trains and buses to Hanoi. Since 6 a.m. of Jan. 27, all the buses stations in Hanoi such as My Dinh, Nuoc Ngam and Gia Lam were receiving hundreds of buses overloaded with passengers from other provinces.
Nguyen Tat Thanh, director of the Hanoi southern bus station, said the increased demand for transportation before and after Tet has been caused by a longer holiday period this year, prompting more people to go home for Tet than in previous years.
On Jan. 29, 15,000 passengers in all arrived, causing much disorder at the station, he added, because every 3-5 minutes there was a bus coming to or leaving the station.
According to the coach companies, although the numbers of buses from other provinces to Hanoi were increased by 20 per day, they were still unable to meet high demand.
Many migrant workers have had to accept extremely high prices to be taken to Hanoi, according to passenger Thanh Lan, who paid 150 percent more on the normal ticket from Tuyen Quang to Hanoi.
All the tickets were sold out a few days ago. For the Tet festival this year, the price of tickets from Nam Dinh or Thai Binh to Hanoi increased by 50 to 100 percent over normal days, a passenger complained.
Severe traffic jams several kilometres long also occurred on roads to Hanoi, especially along the crossroads of Giai Phong and Phap Van- Cau Gie and between Nguyen Xien - Pham Hung and the outer ring road 3 , according to local traffic police reports.