More than 74,000 hectares of rice crops are lying submerged under floodwaters and many homes inundated after consistent heavy rainfall over the last few days in the northern regions.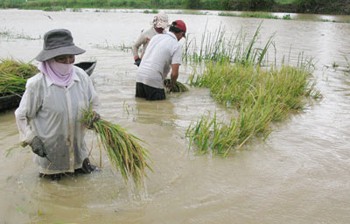 Farmers try to salvage whatever rice crop they can from flooded fields in Hai Lang District in Quang Tri Province (Photo: SGGP)
The National Hydro Meteorological Forecasting Centre said on September 15 that the low pressure trough, which continued to unleash heavy rains across the north central and northern regions, is expected to bring in more rain in the next few days.
By September 18, a cold spell in the north will bring in more heavy rains across the country. Heavy rainfall is also forecast in the south for the next few days, as a result of the southwest monsoon.
22,599 hectares of rice crops are lying submerged in Thai Binh Province, 22,700 hectares in Nam Dinh Province, 12,525 hectares in Thanh Hoa Province, 13,905 hectares in Nghe Anh Province, 190 hectares in Binh Thuan Province, 1,817 hectares in Ninh Binh Province and 92 hectares in Ha Tinh Province. In addition, heavy rains also damaged 11,766 hectares of farm produce.
The National weather bureau also reported that heavy rains have blown away 17 rooftops of houses and damaged seven others in Sapa and Van Ban districts of Lao Cai Province in the north west.
The General Department of Irrigation under the Ministry of Agricultural and Rural Development said that some irrigation reservoirs had released floodwaters due to increasing levels.
Officials of the department said that to cope with torrential rainfall, farmers need to find ways to release floodwaters.
On the same day, Dr. Do Minh Nhat, deputy director of the Department of Agriculture and Rural Development in the southern province of Kien Giang said there were 1,600 hectares of spring-winter rice crops lying submerged under floodwaters. 400 hectares of which have been completely devastated and nearly 8,500 hectares are in threat of submerging within the next few days because the Tha La and Tra Su reservoirs in An Giang Province have released the floodwaters on September 15.
Releasing floodwaters from the two reservoirs will further increase the water levels in the Long Xuyen Quadrangular.
Before releasing floodwaters from the Tha La and Tra Su reservoirs, local authorities had informed farmers in advance.