Thousands of people struggled to return back to Ho Chi Minh City and Hanoi on Tuesday, the last day of the four day Reunification Day and May Day holiday, through huge traffic jams that occurred in several spots in both the cities.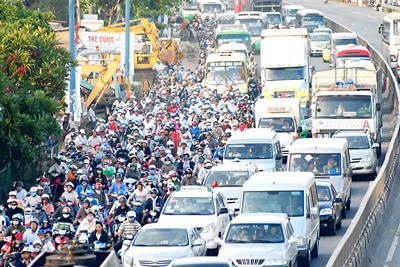 Thousands struggled to return back to the city after their four day holiday (Photo: SGGP)
The number of vehicles plying on Hanoi Highway, enroute to Ho Chi Minh City, increased from 4pm on. One hour later, a severe traffic jam occurred in front of Suoi Tien Cultural Tourist Park.
Highway 1A in Binh Tan District was jammed with motorcyclists and coaches that were returning back to HCMC from the Mekong Delta.
The highway section in the Mekong Delta province of Tien Giang was congested with thousands of vehicles heading out to HCMC and other provinces in the southeastern region.
The worst jam occurred on the downgraded Kinh Xang Bridge, which was a challenge for the traffic police as they tried to regulate the traffic.
Similar conditions prevailed in Cat Lai Ferry that connects District 2 in HCMC with Nhon Trach District in Dong Nai Province. From 4pm on vehicles queued up over a 2-3kilometre stretch on the Dong Nai side.
Thousands of people also rushed back to Hanoi after the holidays on Tuesday afternoon under parching heat in the northern region.
Highways 5, 3, 2 and 6 and belt roads in Hanoi City saw high density of vehicles which slowed down the speed to only 20km an hour.
One traffic accident occurred between two automobiles on Highway 1A causing a traffic jam that stretched from Cau Gie toll station in Ninh Binh Province to Hanoi's gateway entrance.
Conditions in bus stations like Giap Bat, Nuoc Ngam and My Dinh in Hanoi were hugely crowded and chaotic.