Heavy rains in Binh Dinh and Phu Yen provinces on Monday caused isolated thousands of households and property damages.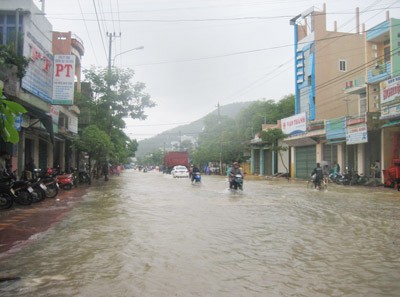 Floods resulted from heavy rains submerge Quy Nhon's major roads. (Photo: SGGP)

Prolonged heavy rain on November 8 in Binh Dinh Province caused high level of water in rivers.
The province's districts such as Tuy Phuoc, Phu Cat and An Nhon were inundated again.
In addition, the flood also submerged many roads, resulting in traffic jams and more than 2,000 households isolated.
Floods resulted from heavy rains also overwhelmed Quy Nhon's life-line roads, including Tran Hung Dao street, national road 19 and caused congestion as well.
In the beginning of the month, the downpours left six dead and missing, two injured, destroyed and swept away 137 houses, submerged 3,500 houses, and 1,700 hectares of crop and damaged 940 hectares of aquaculture farms.
In Phu Yen Province, the provincial Committee for Flood and Storm Control said that three hydroelectric plants on Hinh River discharged water back into the river while heavy rains were falling in the province, leading to more serious floods in urban areas.