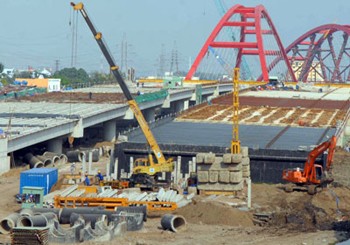 The incomplete construction on the Tan Son Nhat-Binh Loi outer belt road (Photo: SGGP)
The Ministry of Investment and Planning has recently submitted a report on the investment progress and evaluation of projects in 2011.
During 2011, Vietnam had a total of 38,420 projects, of which 4,436 projects are running behind schedule, said a representative of the Ministry.
The slow progress of these projects is one of the reasons for increase in costs and negative impact on the economy.
According to the current investment management laws, the government does not allow adjustments in the total investment capital of a project, in case of price fluctuation or change in policies.