The Binh Duong police arrested three boat company workers on May 21 regarding the accident relating to the sinking of a vessel where 16 people drowned the night before.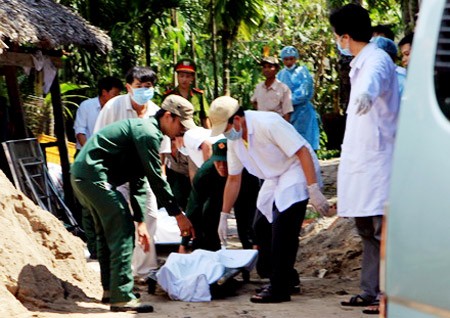 Rescue team helped recover bodies on May 21 from the Saigon River.(Photo:SGGP)
On the same day, police also decided to prosecute individuals and agencies responsible or in any way related to the tourist boat disaster on the Saigon River.
The three workers arrested included the boat driver, the boat manager and the Din Ky Green Tourism Resort manager.
Pham Van Duy, director of the Inland Waterway Port Authority of Zone III, said the boat license 72K BD 0394 had expired three months ago and the boat driver did not have a driving license.
By 4 pm on May 21, rescue teams had recovered 15 out of 16 bodies from the river. One victim, 9-year-old Nguyen Xuan Khanh was stuck in the boat when it capsized. The rescue team had to pull up the boat to recover Khanh's body.
According to Tran Van Nam, deputy chairman of Binh Duong Province People's Committee, the initial investigation showed that the cause of the accident was the bad weather. This is the first such accident occurring in the province.
The province authorities are temporarily stopping tourist boat services on the river in order to do a thorough check of the situation.
Meanwhile, according to news sources, all the boat's sailors and staff jumped into the river when the incident occurred. In addition, there were only a few lifebuoys on the boat. There was no lifebuoy in the VIP room where the birthday party was being held.
Police said that they would check all the boat's equipment to verify this news.
The provincial People's Committee compensated the victims' families with VND4-5 million each. The Din Ky Green Tourism Company will provide all expenses for the funerals of the victims.
On May 21, police in Binh Duong Province offered VND50 million to the rescue team who helped in finding the dead bodies.
The police also brought four Chinese persons bodies to Cho Ray Hospital.

Related article:
Cruise ship sinks in Saigon River