Three residents have reportedly died and one remains missing after torrential rains pounded the northern coastal province of Quang Ninh on Sunday.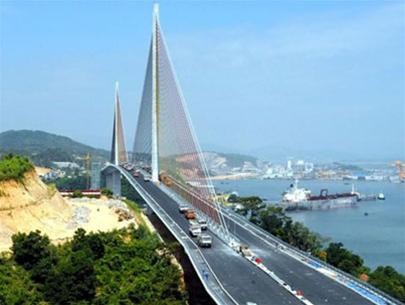 Bai Chay Bridge is greatly affected by torrential rains on Sunday
Downpours submerged the popular tourist haunt of Bai Chay and caused a small crack in the approach road of Bai Chay Bridge.
The weather also caused landslides that closed some roads for hours.
In Cam Pha Town of Quang Ninh Province, heavy rains collapsed a 30 meter-long wall, which then fell onto a house, killing Truong Thi Phin, 44, from the northern province of Hai Phong and her two children. There are also reports of a missing worker from the Deo Nai Coal Company.
Also in Cam Pha Town, flood waters rose to 1.5 meters in height, sweeping away the house of Do Van Quyet and causing damage worth over VND100 million (approx. US$6,250), luckily no one was staying in the house at the time.
The harsh weather sank two tourist ships anchored at the Bai Chay Dock in the UNESCO-recognized natural heritage site of Ha Long Bay. Fortunately, no one was on board at the time and the two vessels have been salvaged for repairs.
The recent rains have been the biggest in the province so far this year, according to the Quang Ninh's Hydro-Meteorological Center. On Sunday, Bai Chay measured rainfall of 257.4 mm, Cam Pha town 140.8mm, Tien Yen 126.7 mm and Mong Cai 155.5 mm.

Forecasters predict that the province will continue to see downpours over the next few days.
The 30m-long crack in a ramp leading to the Bai Chay Bridge is threatening the lives of those residents living under the bridge, according to provincial People's Committee. Quang Ninh Province's Communist Party Chief, Nguyen Van Quynh, instructed local authorities to evacuate all 40 families that live under the bridge.
Residents attributed the torrential rains and landslides to recent construction projects and deforestation, which greatly affects the environment of the province.