Early morning on April 18, a bus carrying 30 passengers on Highway 1A coming from southern Binh Duong Province to Thanh Hoa Province lost control and crashed into a truck travelling in the opposite direction.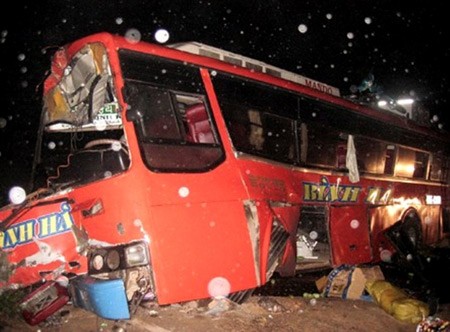 The wreckage of the bus after the crash. (Photo:SGGP)
The accident occurred at 2:30 am in the central province of Ha Tinh leaving three dead and injuring 18 others, resulting in a traffic jam for several hours on Highway1A.
While two people died on the spot, one pregnant woman died in Ky Anh District General Hospital.
Most of the victims were from the central provinces of Thanh Hoa and Ha Tinh. The injured were taken to general hospitals in Ky Anh District and Ha Tinh Province.
Both vehicles were badly wrecked causing a roadblock for other traffic for several hours.
Nguyen Quoc Doanh, head of traffic police in Ky Anh District, said initial investigations showed that the cause of the accident was low visibility caused by bad weather, heavy rains and to the bus driver who was over-speeding and lost control.