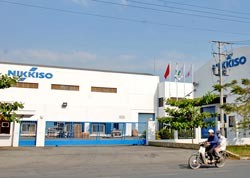 Nikisso Company. (Photo: SGGP)

Three Tan Thuan Export Processing Zone based firms have been fined for violating environmental laws. They have not improved their pollution problems despite previous warnings from the Ho Chi Minh City Department of Natural Resources and Environment (DoNRE).
The Department has fined medical device producer, Nikkiso Vietnam, VND5 million ($285) for treated waste water that was unsafe.
Instant vermicelli producer, De Linh, has been fined VND14 million ($800) for not separating their sewage disposal from the storm drainage system. They have repeatedly failed to connect to the zone's treatment system.
Food processing firm, Agrex Saigon, has also been fined VND14 million, as its waste treatment was inappropriate and unsafe.
De Linh Company. (Photo: SGGP)
The Department has also ordered those firms to quickly fix their faults and improve their waste treatment.
The three firms plus another three companies, Hoa Tien Co., Ltd, CX Technology Vietnam Co., Ltd and Tan Thuan Services Export Processing Zone Co., Ltd , have escaped criminal proceedings, as the Department for Public Security said that there was insufficient legal reason to take them to court.
The DoNRE has proposed the city People's Committee cut electric and water supplies to offending firms. It has also asked the government to allow it to revoke the firms' licenses and start criminal proceedings if they reoffend.