The National Center for Hydro Meteorological Forecasting said a low-pressure system continue to gain strength in the northeast part of Hoang Sa Archipelago and is forecast to heading to China.
This afternoon August 10, the system will be able to develop into a tropical low-pressure, 110 km from Hainan Island of China in the east east north.
Although tropical low-pressure will not affect to Vietnam but the weather in the northern region is more complicated with prolonged rains and the flooding water in the many parts of the Hong River is rising quickly.
Of these, The Central Steering Committee for Natural Disaster Prevention and Control required Hoa Binh Hydropower Plant to open one more flood gate at 17pm on August 9 and Son La Hydropower Plant to open flood gate at 14pm on the same day.
Earlier, on August 8 Hoa Binh Hydropower Plant was required to open one floodgate.
As of, three hydropower plants in the northern region have opened floodgates in the hope of ensuring the safety of local dyke system. On August 9, the water level in Son La Lake was measured at 205.29m while it was 106.89m in Hoa Binh Lake.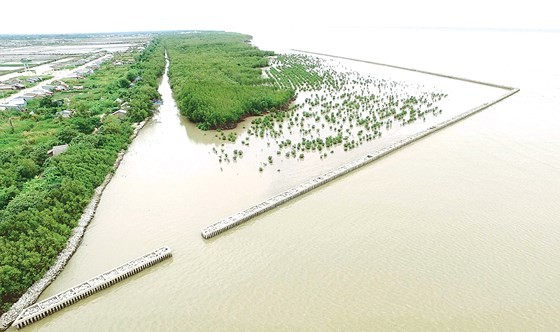 The flood water in Mekong delta region is rising quickly Photo: SGGP
In other development, the Mekong Delta and Southern region experience the highest temperature at 28-29 degrees Celsius and unseasonal rains due to the impact of the southwest monsoon.
The flooding level in the Mekong Delta is still rising therefore the Central Committee sent its dispatch to the provinces of An Giang, Dong Thap, Hau Giang, Can Tho, Long An and Ministries of Agriculture & Rural Development; Defense; Information & Communications asked above-mentioned provinces to eye on flooding situation; keeping a close watch on weather forecast to take measures to cope with the flooding.
Local authorities should plan to move local people who are living in dangerous zones to safer places; to re-check the dyke systems in the upstream areas to prevent landslides.