In accordance with Article 88 of the criminal code, The Ho Chi Minh City People's Court handed down a total of 12 years imprisonment on Thursday to three defendants accused of disseminating slanderous and libelous information against the Socialist Republic of Viet Nam.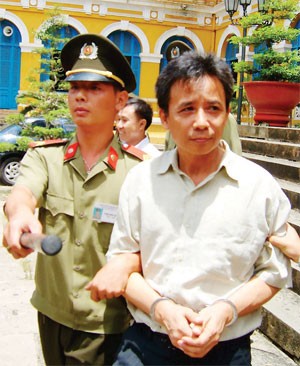 Defendant Le Nguyen Sang after the trial

Le Nguyen Sang, Nguyen Bac Truyen and Huynh Nguyen Dao were sentenced to five, four and three years respectively and will be put under house arrest for two years following their terms in jail. 
 
The court said by circulating distorted information about the Vietnamese Party and Government policies, the defendants had caused political instability.
 
The three accused plead guilty during the trial and expressed remorse for their actions, saying they had been mislead by hostile forces into violating the law. 
 
According to the prosecutors' statement, the three defendants became acquainted with Vietnamese-American Do Cong Thanh in 2004-2005 through a pen club that Thanh had set up on the Internet. 
 
They later joined the so-called "People's Democratic Party". Under the instruction of Thanh, the trio printed and disseminated 1,600 leaflets urging people to demonstrate for the abolition of Article 4 of the Constitution and the adoption of a multi-party political system.
 
Thanh was expelled from Viet Nam in September 2006 following his anti-State activities.