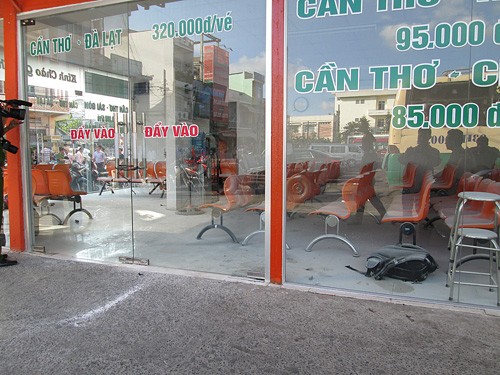 The scene after the explosion
Three people got burns and panic-stricken hundreds of passengers rushed out of Phuong Trang bus station in Hung Vuong Street, Ninh Kieu District of the Mekong delta City of Can Tho on February 28 when an explosion occurred.
La Ngoc Phu, Phuong Trang Company's director, said the company's camera recorded two passengers, a man and a woman, stepped into the waiting room with a bag.
Suddenly, a blast took place causing burns to three people including two passengers and a friend of theirs.
Three victims are Duong Thi Thuy Trang, 19; La Hoang Sang, 28, both are Ho Chi Minh City natives and Tran Van Thanh, 28 linving in Ninh Kieu District. They were rushed to the Can Tho General Hospital for treatment.
On the day, senior lieutenant-colonel Vo Van Thang said La Hoang Sang confessed to bring one kilogram of KCL03, one kilogram of active coal, half a kilogram of sulphur and a tube of iron glue in his bag. As he read the formula to make blast, he bought these chemicals to make it due to his curiosity.
However, it erupted in fire while he was waiting in the bus station.
Police were quick to block the station for further investigation.