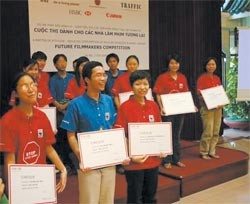 Vietnamese student won prize "the future filmmaker competition"
Three Vietnamese junior high school students, out of eight attending the final, have won prizes in the "Future Filmmakers Competition" held by World Wildlife Fund (WWF) in Ha Noi.

They include Nguyen Thi Phuong Nhi (first prize), Ha Trung Hieu (second) and Duong Dieu Linh (third). As part of an awareness-raising campaign, the competition aims to raise awareness of unsustainable wildlife consumption in Viet Nam.
It is a shared project of WWF Greater Mekong and the TRAFFIC - a joint wildlife monitoring program by the WWF and the IUNC, the World Conservation Union - funded by the Danish International Development Agency (DANIDA), HSBC bank and Canon Corporation in Viet Nam.
The competitors were required to write a short script for a 30-second televised presentation revolving around WWF's anti-wildlife consumption slogan: "Don't trade the natural world for human demands".
The three winning students will each receive a Canon camcorder, and will attend a week-long film production training course in June. During this course, the students will learn all the necessary filmmaking skills to develop and produce television presentation from their own ideas.
After the course, the students will have a chance to produce and edit their films themselves, to be broadcast on Vietnamese Television (VTV). In addition, other eight students in the final will be awarded VND1 million (US$63). Both HSBC and Canon have provided support for the competitors during the campaign.
"The first time a competition of this kind has taken place in Viet Nam. It is an opportunity for Vietnamese student to express their opinions about the critical reduction of Viet Nam's biodiversity, caused by unsustainable wildlife consumption" said Mr. Eric Coull, WWF Greater Mekong Representative at the prize-awarding ceremony.