Thu Thiem Bridge is due to be finished by the end of the year but the Department of Transport and Construction of HCM City declared that the traffic in the surrounding area has recently worsened and may lead to difficulties.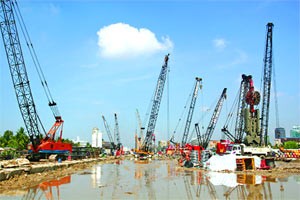 Thu Thiem Bridge under construction
Thu Thiem Bridge will be 48 meters wide; enough for six lines of traffic and is being built to link HCMC centre to District 2. However, at present, Luong Dinh Cua Street, the only street that links the center of HCMC to District 2, is only 6m wide and is too narrow to allow the passage of large amounts of traffic that will pass through once the road opens.
The People's Committee of District 2 plan to widen a 4-kilometer stretch of the street between Nguyen Thi Dinh and Tran Nao, making it up to 30 meters in width and will compensate the residents for the necessary land clearance.
They declared that plans to widen the remaining stretch of road between Tran Nao and the foot of the bridge, cannot go ahead without the approval of the new Thu Thiem Residential Complex's Project Management Board, as they currently have rights to the land.
The board of representatives has reported that they were not planning to widen the part of the Luong Dinh Cua Street that belongs to their project. Instead, they have plans to build a new avenue running along side the complex, the majority of which will be parallel to Luong Dinh Cua Street. If this avenue is completed then Luong Dinh Cua Street will become obsolete.
According to a Thu Thiem representative, the technical plans for the complex and avenue will be finished by the end of this year, and the building work will not be due for completion until 2010.
To solve the current traffic problem, the authorities plan to build a 900-meter-long road between Luong Dinh Cua Street and Thu Thiem Bridge via the west-east highway. However, at present there is no planning permission for the land as it houses many trees and homes. 
At a meeting on June 13, the Traffic and Transportation Company reported that the street is to begin building work in April 2008.
The Project Management Board of Thu Thiem resident complex are not making the situation any easier, they are now asking that the street be narrowed to save space for more houses. Therefore, some have suggested that the road project should wait until Thu Thiem Residential Complex is completed.