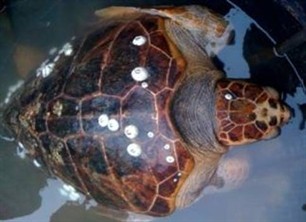 (File) The rare turtle that has been released back to the sea
Fishermen and officials in Thua Thien-Hue Province have released back to the sea a rare marine turtle caught by a fisherman in the central province on January 2.
The turtle, about 80 kilos in weight and 85 centimeters in length, was caught by fisherman Nguyen Thanh in Phu Vang District.
The reptile is listed as a rare and endangered species by the Convention on International Trade in Endangered Species of Wild Fauna and Flora (CITES), according to the provincial Bureau of Fisheries Resources Exploitation and Protection.
This is a Quan Dong sea turtle with the scientific name Cretta caretta, and CITES bans hunting, trading, and transporting the rare species, including its eggs, according to the bureau.