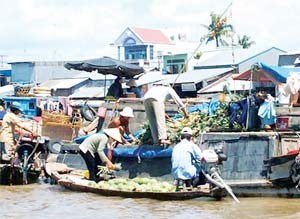 Cai Be Floating Market in Tien Giang Province.
As one of the rice granaries in Mekong Delta, Tien Giang Province produces between 1.2 and 1.3 million tons of rice annually, 200,000 tons of which are exported.
Furthermore, with 65,330 hectares of fruit-trees with the output of 704,225 tons a year, it is considered the biggest fruit-tree farm nationwide.
Fruit-tree farms are mainly located in Cai Be, Cai Lay, Chau Thanh, My Tho Districts and tend to be expanded toward the east.
Many kinds of Tien Giang fruit have become famous nationwide, including Hoa Loc sweet mango, Co Co pomelo, Cai Be thick-skinned orange, Cai Lay durian, Lo Ren – Vinh Kim star apple and Cho Gao dragon fruit.
All these advantages constitute the province's tourism potential. According to a project on developing Mekong Delta's tourism between the Vietnamese government and the Asian Development Bank, My Tho City of Tien Giang Province will be supported to improve its infrastructures gearing towards tourism.
The number of tourists to Tien Giang rapidly increased from 103,380 turns of visitors in 1995 to 518,124 in 2005.
Opening for Investors
 
Currently, Tien Giang is calling for investment in 70 projects, of which 8 are for agriculture, 8  for industry, 9 for tourism and infrastructure and 12 for industrial parks.
To attract more investors, the province's People's Committee has quickly relocated households in areas that will be used to build important industrial zones.
Investors can lease land at the lowest prices possible in the government's applied price frame.
Furthermore, enterprises regulated by Domestic Investment Promotion Law, with scientific and technological research and applications can get medium-term and long-term loans with preferential interest rates.
Those who can persuade outside investors to make investment of equal or more than US$3 million in Tien Giang Province will be awarded from US$1,250 to US$6,250.
Tien Giang Province's authorities hope that their policies of investment incentives will tempt more investors to the province.