Tien Phong Newspaper has just announced top ten outstanding youth on March 19.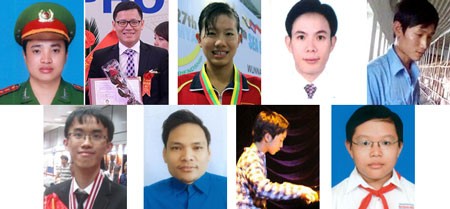 Outstanding young talent peoples(Photo: SGGP)
The award aims to develop young talent and promote scientific research and production.
Finalists were chosen from 121 entries and nominated by 54 agencies and organizations across the country.
The organizers and press agencies voted 20 outstanding talent young individuals studying scientific research, production and business, national security and defense, culture-art, sports, and social activities.
Ten winners will be voted by readers on Tien Phong Online, Thanh Nien Online, Tuoi Tre Online, Vietnamnet and website of VTV 6.
A grand ceremony is expected to take place at the Government Office at 8 a.m. on March 22.
This award is considered as a valuable prize of the Central Executive Committee of Ho Chi Minh City Communist Youth Union with the aim to honor outstanding achievements of young peoples in building and protecting country.

List of ten outstanding young talent peoples:
1. Nguyen Duong Kim Hao was born in 2001, a student in 6th grade in Nguyen Gia Thieu Secondary School in Tan Binh District.
2. Bui Quang Tu was born in 1995, a student in 12th grade in Hanoi-Amsterdam High School.
3. Associate Professor Le Anh Vinh was born in 1983, a teacher of Hanoi National University.
4. Nguyen Sy Luan was born in 1985, director of Binh Minh Joint Stock Company in Hanoi.
5. Mai Hoang was born in 1979, Deputy Chief of Police Office of Van Ho – Son La District.
6. Dang Quoc Khanh was born in 1978, deputy team of prevention drug crime team of Nghe An Province.
7.  Nguyen Dang Quang, born in 1998, a student from the Vietnam National Academy of Music
8. Mai Van Phuong, born in 1982, engineer from Binh Minh 2 Company
9. Lai Van Diep, born in 1980, Director of a handicraft company for the disabled in Thai Binh Province
10. Nguyen Thi Anh Vien, born in 1996, swimmer and Lieutenant from sport center of Military Zone 9.