Tien Phong newspaper celebrated the 55th anniversary of its first issue, November 16, at the Hanoi Opera House yesterday.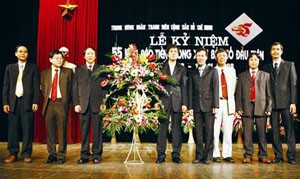 Delegates were present in the anniversary yesterday in Ha Noi. (Photo: Tien Phong)
Pham Quang Nghi, member of Politburo and secretary of the Ha Noi Party Committee, and Vo Van Thuong, First Secretary of the Central Committee of the Ho Chi Minh Communist Youth Union, and other officials attended.
Tien Phong publishes a daily, weekly, and monthly, an online newspaper, Nguoi Dep Viet Nam (Vietnam Beauty) and Tri Thuc Tre (Young Knowledge), Doan Cong Huynh, editor-in-chief, said.
It has also established the Tien Phong Joint Stock Company to set up supermarkets selling books and cultural products for youth.
Tien Phong has organized a number of contests and practical forums that have attracted millions of young people.
Its annual Miss Vietnam contest has become an especially successful event, Mr Huynh said.