One tiger leaped out of its enclosure and killed a zoo worker and injured another while they were planting trees in a tiger cage at Dai Nam Tourist World's Zoo, southern Province of Binh Duong, on September 10.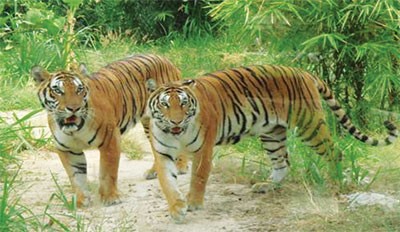 Tigers at Dai Nam Tourist World's zoo, southern Binh Duong Province. (Photo: laccanhdainamvanhien.com)
Nguyen Cong Danh, 47, was killed by the tiger with Nguyen Thanh Giau, 21, rushed to hospital for emergency treatment.
The two workers sought safety in a water-filled tunnel but Danh crawled out of it and was killed.
Duong Thanh Phi, director of the zoo, said the tiger enclosure was being repaired and trees planted. Workers had been planting trees for some time, while the "tigers had been locked away safely."
Mr. Phi said it is the first incident of its kind at the zoo, which had installed electric fences and ponds seven to eight meters wide.
Some workers used cranes to bring trees into the tiger cage, scaring the tiger, which then leapt into another cage and attacked the workers, Mr. Phi said.