According to the Vietnam Timber and Forest Product Association, the country has approximately 80 furniture manufacturers consuming 3.5 million tons of raw wood every year, even as precious forest area is being gradually denuded and reduced.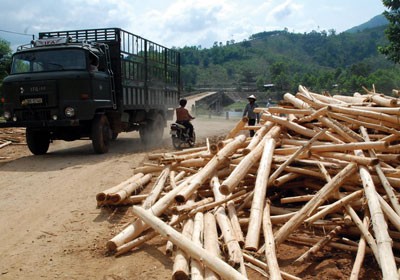 Unhealthy competition between enterprises leads to in turn purchase immature tree to meet production demand (Photo: SGGP)
In February, timber and wooden product exports brought in some US$342 million, taking export turnover in the first two months to $831 million, up 36.2 percent year-on-year.
 
Timber and wooden product exports to major markets has risen sharply since last year. Timber exports have risen from 400,000 tons a year to 15 million tons a year. For example, exports to the U.S. grew 79.89 percent, Japan 56.03 percent, China 92.4 percent and South Korea 30.6 percent, according to the Ministry of Agriculture and Rural Development. This indicates the mushrooming of manufacturing factories.
 
The consequence of unplanned development of such factories will lead to competition between enterprises, which will in turn purchase immature trees to meet production demand. Enterprises in the central provinces of Quang Ngai and Binh Dinh are quickly falling into this bracket.
 
Nguyen Ni, director of Dung Quat Paper, said 21 factories in Quang Ngai have capacity of 100 tons a year. Therefore they will consume 21,000 tons a day while the supply can barely meet 30 percent. This will lead to unhealthy competition in purchasing trees, even immature ones, resulting in low quality.
At the beginning of 2013, timber exports went for $138 per ton, later falling to $120 per ton and now it is $129 per ton. The slight rise in export price cannot help enterprises recover losses.