Titanium exploitation in Quang Loi Commune of Quang Dien District in Thua Thien-Hue Province is leading to the destruction of vast areas of protective forests that local residents and authorities have taken great efforts to plant over dry sand hills.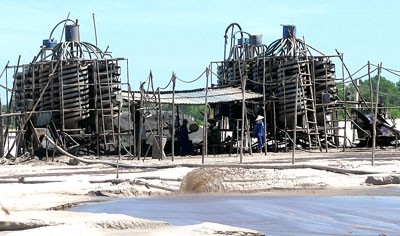 Titanium exploitation site in Co Thap Hamlet in Quang Loi Commune of Quang Dien District in Thua Thien-Hue Province (Photo: SGGP)
Sand hills in Co Thap Hamlet of Quang Loi Commune are being drilled ceaselessly to extract the ore with tens of machines and hundreds of people working at the exploitation site and trucks continuously transporting titanium from the area.
One local resident said that commune authorities and residents have worked hard to grow a protective green cover by planting trees over large areas, but titanium exploiters are hacking down the trees for their own selfish gains.
Hoang Thao, deputy chairman of the People's Committee of Quang Loi Commune, said that the Thua Thien-Hue Minerals Corporation was licensed by the provincial People's Committee to mine titanium in the commune for three years, since August 2011.
The company was permitted to mine 26,000 tons of titanium from an area of more than 87 hectares of which 40 hectares is under protective forest cover, and only 500 meters from residential areas.
Titanium exploitation has greatly affected residents' lives, according to Mr. Thao. Transportation of titanium by trucks has also destroyed roads in the commune.
Wastewater from titanium exploitation flows into nearby rice and vegetable fields. Local people reported their complaints to commune authorities after which the mining site was inspected, but the mining company only dammed up the dykes to prevent wastewater from overflowing into surrounding areas.
Vo Quang Dieu, director of the exploitation unit in Quang Loi Commune said that the company has 135 workers digging 28-30 tons of titanium per day in Co Thap Hamlet.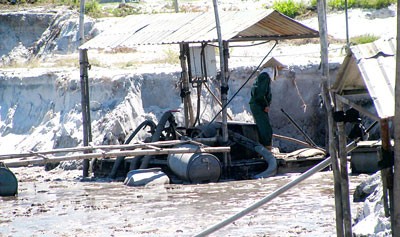 Several sand hills have been drilling extensively to extract titanium (Photo: SGG)
Local woman Nguyen Thi Hien said that titanium exploitation has resulted in the chopping down of a large number of trees which they have spent the last 15 years to nurture. The protective green cover was necessary for them to prevent sand grit from flying into their houses and covering their paddy fields.
Dieu said that the company would replant trees in November and spray water when it is windy, so as to limit the sand from blowing into people's homes. However, local residents believe this measure will be like spraying one bucket of water to quench an entire field.