Tobacco manufacturers in the country have been asked to put a 'Smoking Kills' warning and visual images on domestically made and imported cigarette packets, in an effort to lower harmful addiction in around 40,000 people every year.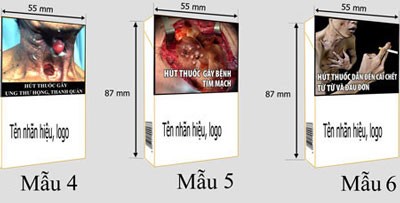 Some of proposed warnings on cigarette packages
This is an important regulation set by the Ministries of Health, and Industry and Trade which will take effect from May 1 this year.
According to the new regulation, manufacturers will have to print images and pictures on cigarette packets to warn of harmful effects of smoking.
Images and pictures must take up 50 percent of the front and back area of the packet and must be clearly visible.

Each cigarette brand should place one warning among every six sample according to the regulation. Different brand names have different warnings.
In case a brand has more than six kinds of cigarettes, producers should slap six cigarette health warnings on the packets, as per the regulation. Noticeably, the visual warnings must be shocking enough to deter smokers. This health warning will be changed periodically once every two years.
The Ministry of Health said Vietnam is one of the nations in the world that has a huge number of smokers, most of them men and young people.
Annually, as many as 40,000 Vietnamese die of smoking-related diseases such as stroke, coronary thrombosis, lung cancer, emphysema, bronchitis, and chronic airway obstruction.
If health authorities in Vietnam do not find effective measures to reduce the number of smokers, the number of people dying of smoking-related diseases could go up to 70,000 a year by 2030.