According to the Ministry of Health, the number of tobacco-related deaths is four times that of deaths caused by road accidents and twice more than pulmonary disease or tuberculosis deaths.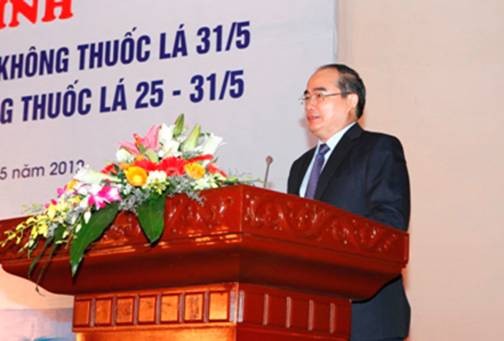 Deputy Prime Minister Nguyen Thien Nhan at the meeting
These statistics were released at a meeting on May 24 in Hanoi organised by the Ministry of Health and the World Health Organisation on occasion of 'World No Smoking Day' (May 31) and 'No Smoking Week' (May 25-31). 
According to the ministry, Vietnam reports more than 40,000 tobacco-related deaths every year, a figure which is four times higher than reported in road accidents and two times more than pulmonary or tuberculosis related diseases.
At the meeting, the health minister said that day by day and year after year more younger youth are being affected; when once smoking was being adopted by youth around the age of 19-20, now at least 43 per cent are seen to be around the age of 15 only.
Also attending the meeting were Deputy Prime Minister Nguyen Thien Nhan, who addressed all ministries, sectors, and people to actively participate in the no-smoking campaign and support the law to tackle the harmful effects of tobacco. Efforts to contain smoking will also be discussed at the ongoing session of the 13th National Assembly.
Deputy PM Nhan also introduced a new message-'Vietnamese Youth say NO to Smoking', in the hope that the youth of the country will totally reject tobacco.
Smoking kills nearly six million people every year in the world, of which 600,000 are passive smokers, 80 per cent of who come from low and middle-income countries, WHO said.
However, according to WHO, tobacco addiction is preventable if addressed in time.