Prime Minister Nguyen Tan Dung welcomed a thousand contestants from nearly a hundred countries and territories to the 48th International Mathematics Olympiad in Ha Noi yesterday.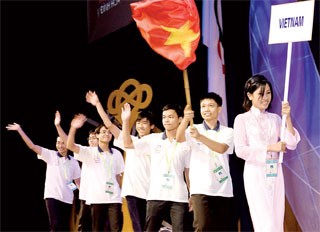 Six Vietnamese contestants at the opening ceremony
Speaking at the competition's opening ceremony at the International Convention Center, Mr. Dung promised that Viet Nam, as the host country, would "create favorable conditions" for the contestants and said that the Olympiad gave them a chance to develop closer friendships.

Education and Training Minister Nguyen Thien Nhan also addressed the local and international contestants, saying that the competition was proof of the younger generation's talent for mathematics and described the contestants as highly skilled resources for their countries.

This is the first time that students from Cambodia, Laos and Saudi Arabia have entered the International Mathematics Olympiad, and the first time in ten years that the Republic of Korea (South Korea) has sent a team.

The six Vietnamese contestants are Nguyen Xuan Chuong from Vinh Phuc, Le Ngoc Son from Bac Giang, Pham Thanh Thai from Hai Duong, Dang Ngoc Thanh from Quang Binh, and Do Xuan Bach and Pham Duy Tung from the Vietnam National University.

Vietnamese captain Vu Dinh Hoa told reporters that his team had been relaxed and confident prior to the competition.
The actual competition ran for most of Wednesday and Thursday, but the prize presentation will not be held until July 30.

Also present at the opening ceremony were Ha Noi chairman Nguyen Quoc Trieu and Professor Joshep Pelikan, president of the competition's advisory council.

Vietnamese students have competed 29 times in the International Mathematics Olympiad since 1974 and have consistently ranked among the top ten at the finish.