Nguyen Ngoc Dong, Deputy Minister of Transport said on Monday that installing a toll station on National Highway 1A in Binh Chanh District of Ho Chi Minh City has now become a necessity and essential to encouraging more investments.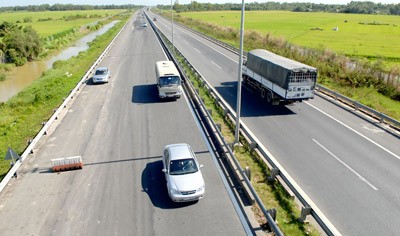 A view of HCMC-Trung Luong Expressway (Photo: SGGP)
In an interview with Sai Gon Giai Phong Newspaper, Mr. Dong said that the Transport Ministry has instructed the Cuu Long Corporation and relevant departments to build the new toll station on National Highway 1A.
 
According to Mr. Dong, after the HCMC-Trung Luong Expressway began to collect toll fee on February 25, traffic has switched to Highway 1A in order to evade payment and as a result the highway is now facing a huge increase in truck traffic. 
This situation will quickly downgrade Highway 1A and cause problems in recovery of investment capital for the expressway.
The Ministry of Transport believes that better conditions must be provided to lure investors to the BOT (Build-Operate-Transfer) plan to upgrade traffic infrastructure, particularly in the present economic conditions where there is a shortfall of capital.
Establishing a toll station on HCMC-Trung Luong Expressway will help recovery in investments, and also ease traffic pressure on Highway 1A. 
Some believe that toll fee on the highway will force trucks to ply on the expressway.
In response, Mr. Dong said that Highway 1A in Binh Chanh District has not been built under BOT plan. The right for toll collection belongs to the government who invests in upgrading roads. The Ministry of Transport has planned to sell this right and they are presently preparing to invite public bids.
At present, Highway 1A has some stations collecting toll fee and according to the road maintenance project, these stations will be removed by 2015.
However, the highway is undergoing a broadening and upgrading project in the BOT plan. Thus the toll stations must continue operating to reclaim funds for investors.
Replying to a view that toll rates proposed for the station in Binh Chanh District is too high, Mr. Dong said that road toll rates in Vietnam are too low compared to other countries in the Southeast Asian region and prices have escalated in recent years.
Besides, the highway section has been upgraded to facilitate vehicular traffic. Thus the rate given by the Transport Ministry is reasonable, Mr. Dong said.
The Transport Ministry is awaiting a decision from the Ministry of Finance to know if the proposed rate should be implemented or not.
Related articles:
Toll fee proposed on vehicles plying National Highway 1
Transport Association proposes cut in expressway toll fee
Vehicular traffic on Expressway drops, after toll fee charge
Transport Association protests high Expressway toll fee
HCMC-Trung Luong Expressway to charge toll fee